I believe that every marketer has a wise man next to him from whom he finds inspiration or motivation for a project, a goal or even for this marketing life he is doing every day.
I myself had this kind of person who once told me a thing that reminds me even today and resonates every time I'm thinking about it:
If you want to know something, just ask!
This is not some quote told by a motivational guru or some life coach, it's only a thought somebody told me and I come back to this root every time I need it.
But why I started this article with a quote? Because questioning was our core strategy when we decided that we need a change in our banner editor.
Yes, we redesigned Bannersnack and I want to share with your our insights and maybe to help you with what we learned.
So we started asking our customers, our users, friends, family, colleagues and even ourselves.
Sometime we had too many questions with no answers. Sometimes a question created/ led to another question. But our main questions always had an answer. And these answers where the foundation we started working on this new interface you can see today on Bannersnack.
This change is the solution for the next 5 points I want to share with you.
1. The solution for time struggles
What's your daily main professional struggle? Doing something really good? Creating something really valuable? Learning something new? Doing a lot of things? Learning everyday?
We found out that the main struggle of our community is time. Time for themselves. Time for their professional life, family, hobbies or personal professional development. Time for their clients and for their projects.
And like the old good lyrics said:
"Time is a valuable thing / Watch it fly by as the pendulum swings / Watch it count down to the end of the day / The clock ticks life away". (P.S. Thanks LP for the gold old song).
So time is one of the pillar we developed this new banner editor on. If you already designed a banner ad or a social media ad with our new editor you find out that you can save a lot of time by using our banner templates, our fonts, images and also cliparts.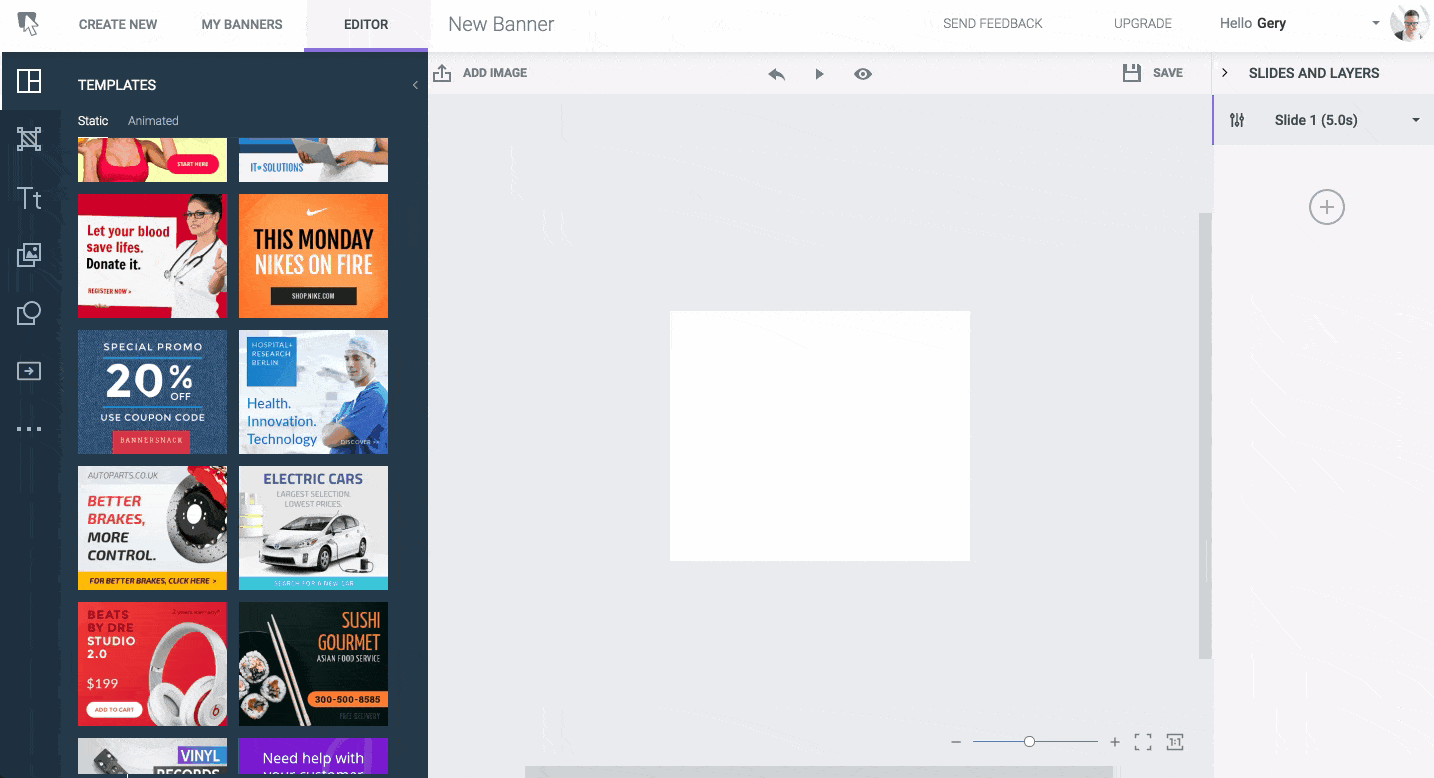 You can easily download HTML5 files or you can simply add animated transitions (thing that you hardly do on Photoshop or other online design tools).
Yes, time is a big challenge for every marketer and entrepreneur, but that doesn't mean that we can't be smart enough to use apps that can give us more time.
2. Content Marketing is more than a blog post
Content Marketing is not only a trendy strategy every specialist is talking about.
We started looking further when we talked about content marketing and when we analyzed our users' behavior we found out that they need a tool where they can have every piece of content they needed for a display advertising campaign or for a social media post.
Times change, business changes, clients requests change and they want high quality and now.
And sometimes content marketing is the answer for these struggles. But we looked at content marketing in a different perspective, so we divided in 2 main pillars for Bannersnack:
The Content Marketing for blogging, social media and everything our Content and Community is doing;
The Content Marketing for our app, everything our designers and developers are working and creating for the banner editor.
And what you will see in our new editor is the new content that every marketer needs to have in his daily job – quality content.
Starting from templates (that, by the way, did I mention that will help you save time and if you don't have any other design inspiration to start from blank, you can just easily edit it), going through images that are divided in 2 main points: the stock cropped photos and the new trendy photos (just search a term you are interested in and you will see photos in that area).
So yes, content marketing it's not only about writing blog posts or e-books, uploading videos or photos, it's about everything your product can give to your users to solve a problem.
3. User behavior
To know what your community wants from you, you need to know why they want this, what's the purpose they are asking a thing from you and how you can deliver the solution for their problem. But also, you need to understand their behavior with your app.
So we asked our users when they are creating banners, how they are using our app and what's the best thing and also, the worst thing they experience with Bannersnack. And their answers helped us a lot.
But we also analyzed their behavior and how they are using our app when they are about to design the next banner ads. What is the first thing they are looking in our app? Do they use our preset size or do they use a custom size? Do they use our templates or they start it design from blank?
Do you see how many question we have here? And guess what, these are just the top of the eisberg when it comes to the UI and UX design elements and user behavior.
And this is what our UI/UX designer is doing every day, between his coffee lounge and actually working: is watching our users behavior.
We are using an app called Hotjar that helps us record our users, how they are actually editing the banner ads (no worry, they are not showing private information such as passwords, usernames or other stuff). So yes, I recommend to every SaaS company who wants to see how their users are using their app.
User behavior changes from time to time and you need to keep the track and stay focused on their needs.
4. Attention + Focus = LOVE

We know that the internet is a crowded place and people are looking to work with tools that are giving them the right space to create and optimize their work. Also, let's not forget the so common research that humans have a shorter attention span that goldfish (yeah, I want to see that goldfish designing a banner ad, writing a blog post, sending a newsletter, talking on the phone, uploading an Instagram ad, going to shop and also drink 4 coffee / day).
So we redesigned the user interface to give it a more easy way to design your banner ad.
This is why you can hide your right and left bar (the right bar is the content bar where you can find the templates, photos, backgrounds, text and more and the left bar is where you can add and edit slides and layers) so you can have your 100% attention on the banner ad.
Paying your full attention to your work will help you do a better job, and also faster.
5. Accessibility is a Must

The final point I want to share with you is something I'm focused lately. I want to work with tools that are giving me the right access to what I need.
Think about this: when Instagram made the update where you can edit your photos into their app is because they saw that it's not enough just to apply some filters to your photo. Users want more from the app, they want to go deeper with their edit in their photos, so Instagram gave them the chance to edit the brightness, contrast, warmth and also edit the opacity of the filter on the photo. And now you have in Instagram not only the entire visual world but you can also simply edit your images with it. You don't need any third party app that can do this.
This is what we've done with our new editor. When you want to edit an element in your banner ad, you don't need to go anymore on the right side to change it and then go back to your banner ad (there is a lot of work on doing this).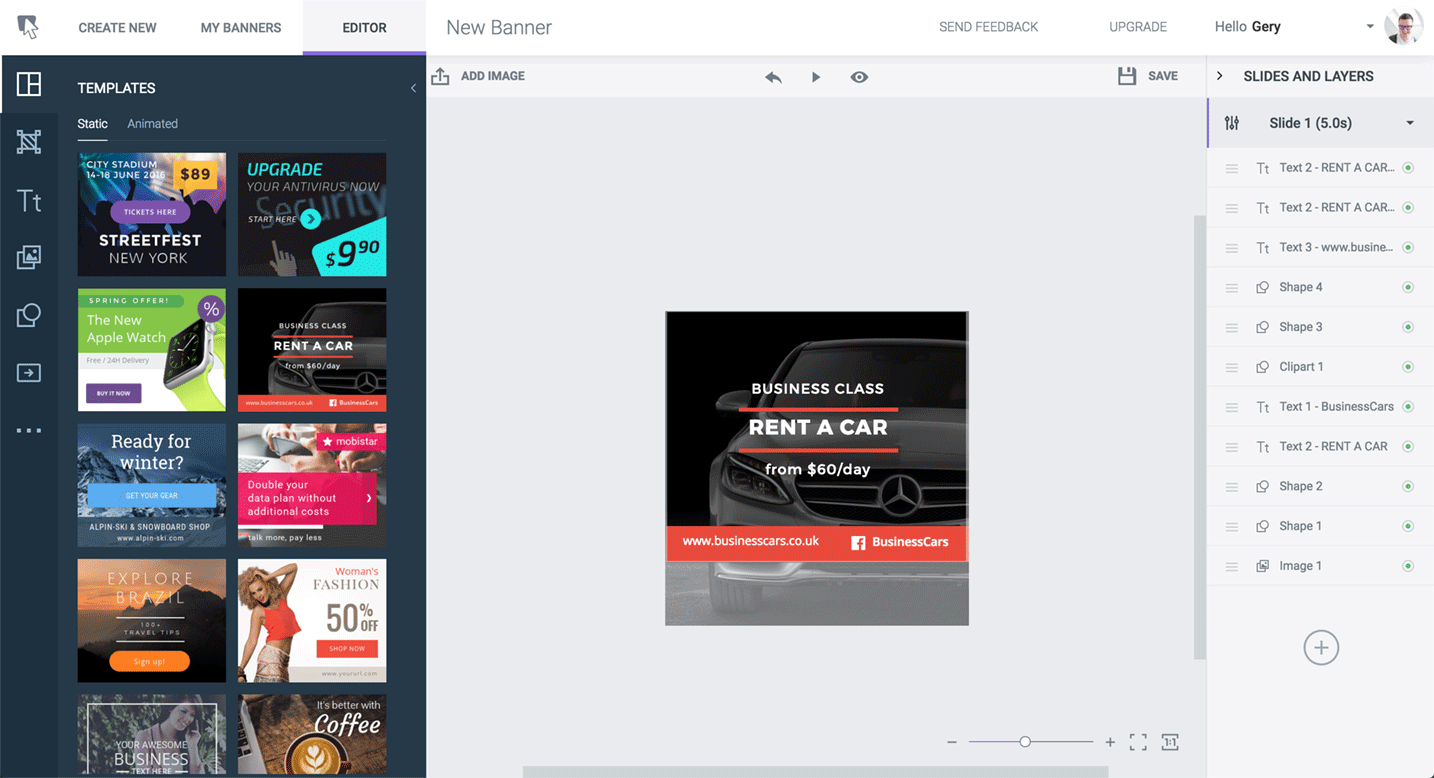 You have that toolbar editor where you can change the colors right next to the banner, so you don't have anymore to scroll and move your mouse from right to left and left to right.
Also, accessibility is one thing every marketer and entrepreneur is looking for today. But since we launched in 2008 and many of our users told us that we are the pioneers in this online visual editor, you don't need to download Bannersnack.
With just a simple wi-fi connection, you can easily have in your computer hundred of GB visual content that you can use to create and edit visuals.
And I believe that accessibility is one of the main cores of a successful brand today!
Conclusion
So here are my 5 learned lessons after preparing and launching a new banner editor that not only will revolutionize banner ad, social media ads but will also help our users do their job better and have more time for themselves.
Give it a try and let us know what do you think about it!